Windows 11, offrira un certain nombre de fonctionnalités destinées aux joueurs sur PC, dont Xbox Game Pass! Celui-ci sera directement intégré à la nouvelle application Xbox de Windows, a annoncé Microsoft lors de son événement de présentation de Windows 11.
Windows 11 a été présenté comme "le meilleur Windows jamais créé pour les jeux". Sarah Bond, vice-présidente de Xbox pour l'expérience des créateurs de jeux et l'écosystème, est apparue sur le livestream de Microsoft pour annoncer que Xbox Game Pass sera "intégré directement dans Windows 11". Microsoft teste cette fonctionnalité depuis de nombreux mois avec une application Xbox modifiée pour Windows 10, mais les vidéos de la version Windows 11 que Bond a montrés semblaient indiquer une intégration plus profonde.
L'application Xbox offrira également le Xbox Cloud Gaming pour ceux qui s'abonnent au Xbox Game Pass Ultimate. Cette intégration permettra aux gens de "jouer aux jeux de la plus haute fidélité sur tous les PC", a déclaré M. Bond. (Xbox Cloud Gaming est actuellement disponible sur PC, mais uniquement via un navigateur Web).
M. Bond a également déclaré que Windows 11 offrirait deux autres fonctionnalités axées sur les jeux : l'API DirectStorage et le HDR automatique, qui ont tous deux fait leurs débuts sur les Xbox Series X et Series S. Au printemps, le HDR automatique a été lancé sur PC dans le cadre du Windows Insider Program.
Nouvelle fonction: HDR Automatique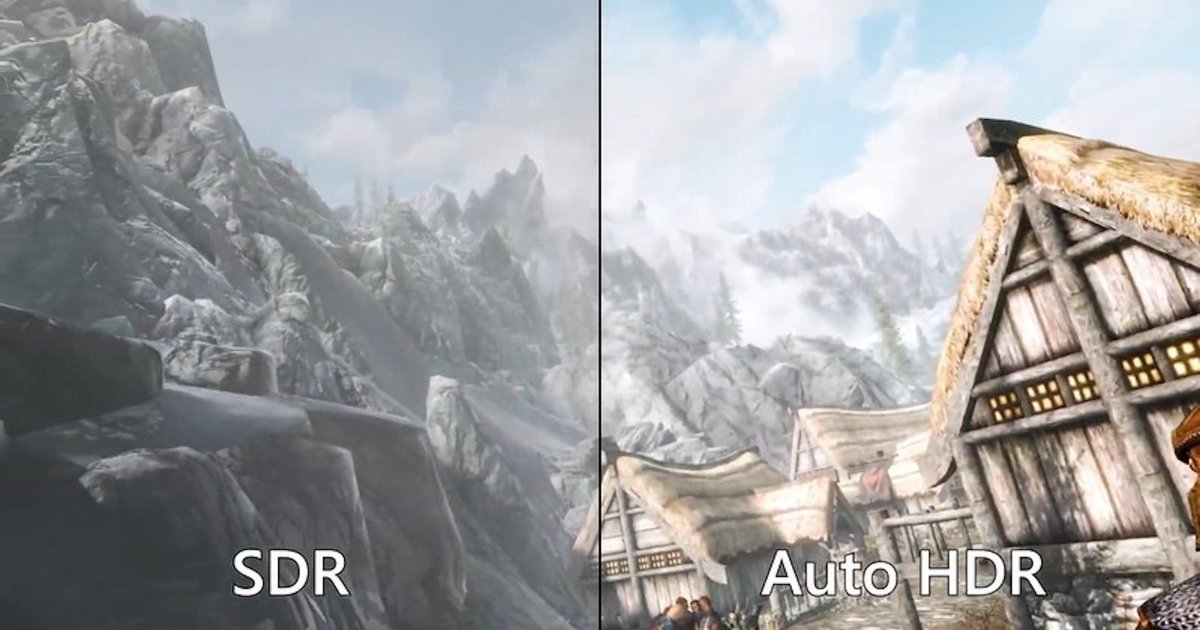 En montrant des séquences côte à côte de The Elder Scrolls 5 : Skyrim avec des couleurs à gamme dynamique standard et du HDR automatique, Bond a déclaré que "plus de 1 000 jeux, dont Age of Empires : Definitive Edition, Rocket League, DayZ, et même Doom 64 – seront automatiquement améliorés sur les appareils Windows 11 qui prennent en charge le HDR."
Tout comme sur Xbox, cette fonctionnalité ne demandera aucun effort aux développeurs, mais les joueurs devront avoir un PC branché à un écran compatible HDR, bien sûr. La prise en charge du HDR a eu la réputation d'être bancale dans Windows 10, alors espérons que l'accent mis par Microsoft sur le HDR automatique pour les jeux est un signe que la société améliore le HDR de manière plus générale dans Windows 11.
Le nouvel API DirectStorage
En ce qui concerne l'API DirectStorage, Microsoft a annoncé pour la première fois l'automne dernier qu'elle l'apportait au PC ainsi qu'à la Xbox. À l'origine, la société a développé la technologie pour la Xbox Velocity Architecture, le système d'entrée-sortie de la Xbox Series X et Series S, qui envoie des données dans les deux sens, du stockage au CPU et au GPU.
Le stockage interne des nouvelles consoles repose sur la technologie à semi-conducteurs PCIe 4.0 NVMe, qui est nettement plus rapide que les disques durs rotatifs de l'ancienne génération ou même que les disques SSD SATA. L'architecture Velocity (et DirectStorage en particulier) est conçue pour prendre en charge les vitesses de lecture et d'écriture plus élevées du stockage NVMe, ce qui permet aux jeux de tirer parti de cette bande passante accrue pour deux avantages principaux : des temps de chargement considérablement réduits et des univers de jeu plus grands et plus détaillés.
"Les PC Windows 11 optimisés pour DirectStorage sont configurés avec le matériel et les pilotes nécessaires pour permettre cette expérience incroyable", a déclaré Bond. À mesure que nous nous enfonçons dans la nouvelle génération de consoles, de plus en plus de jeux seront développés en tenant compte du stockage NVMe PCIe 4.0. Ce n'est qu'au début de 2021 qu'Intel a proposé la prise en charge de PCIe 4.0 avec sa nouvelle microarchitecture Rocket Lake, il faudra donc attendre un certain temps avant que les fabricants de jeux puissent s'attendre à ce que les joueurs sur PC disposent d'un stockage PCIe 4.0. Mais la prise en charge par Microsoft de DirectStorage – qui ne sera disponible que dans Windows 11, et non dans Windows 10 – est une étape nécessaire pour jeter les bases des jeux futurs.
Nous vous rappelons que la sortie de Windows 11 est prévue pour fin 2021.
source: Polygon